Microsoft Build Into Focus: Low Code solutions using Microsoft Power Platform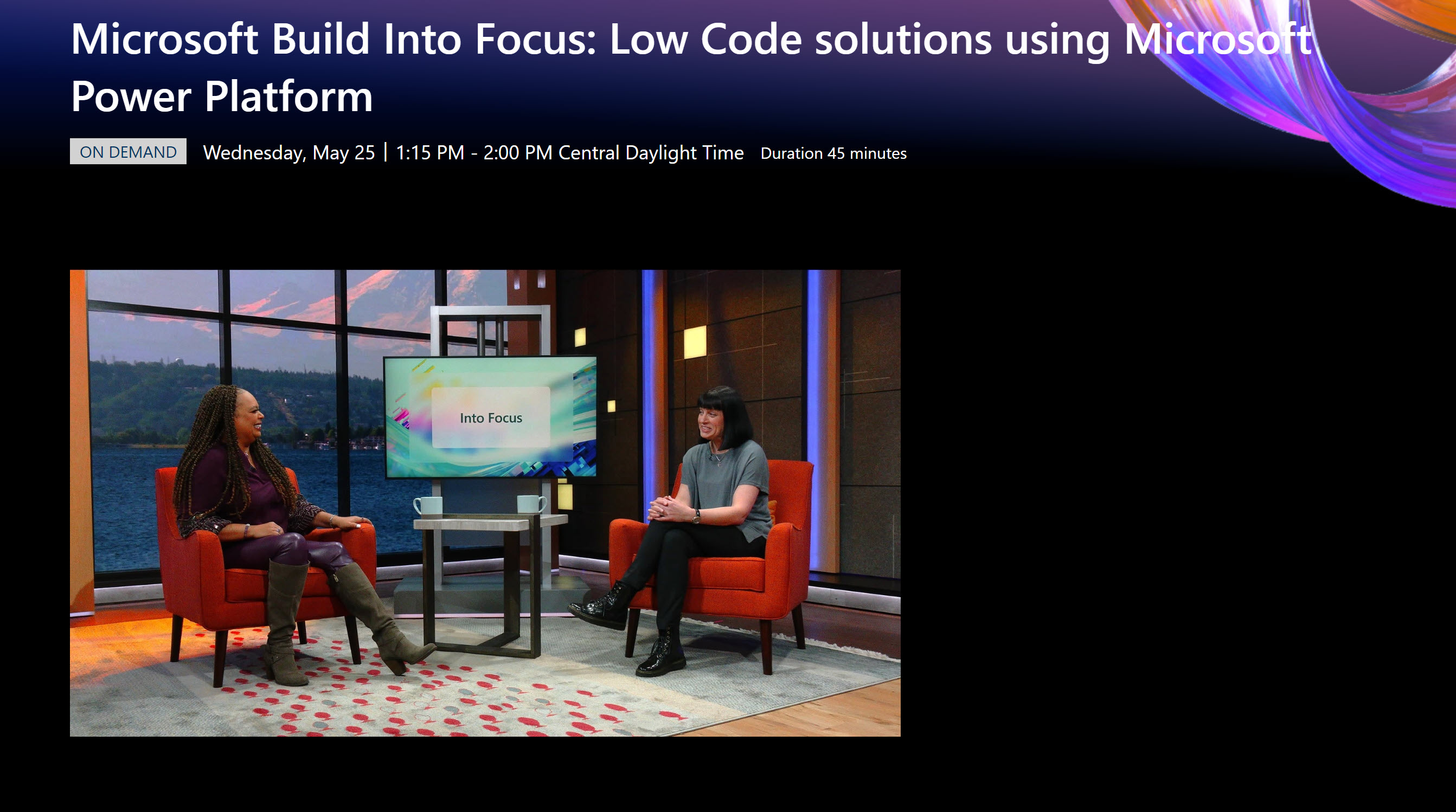 Microsoft Build 2022 was a pretty exciting event and an excellent opportunity to discover the latest innovations in code and application development—and gain insights from peers and experts worldwide.
If you missed it, you can check the Book of News to keep up with the latest announcements.
Link to the Book of News
From developer flow to the metaverse, I highlighted 10 technologies at #MSBuild that are coming together as one powerful platform to help developers build what's next. You can watch my keynote here: https://t.co/OWqPAGbfVL pic.twitter.com/46WqJ7m7I3

— Satya Nadella (@satyanadella) May 24, 2022
This year, I was selected as a Microsoft Build live virtual audience member for the session Into Focus: Low Code No Code! Special Thanks to Myriah Johnson for the invite 🙂
🚀 Microsoft Build Into Focus: Low Code solutions using Microsoft Power Platform!
When: Wednesday, May 25th from 11:15 – 12:00pm PT
MS Content leads: Ricardo Duncan, Eric McChesney, Per Mikkelsen, Kartik Kanakasabesan, Ben Walters, Julie Strauss
Producer: Monica Galarneau
During this session, Karuana Gatimu and Julie Strauss spoke with ZF Friedrichshafen, a German car parts maker and Power Platform customer, about their fusion team practice, and brought to the stage Power Platform engineers to demo the newest fusion development enabling features, and showcased very cool features in an end-to-end demo.
We're here in the studio audience with @Karuana for Into Focus at #MSBuild! Not causing any trouble, not going to jail anytime soon @donasarkar
S/O @GastonFCruz @RebekkaAalbers @DaveRndn @HansLive @MichellesUtopia pic.twitter.com/6OHlbnE2t2

— Anna Chu (She/Her) (@_achu) May 25, 2022
You can check the entire session here:
Best!
-dave